Forums/ The 7th Continent/ Rules and Operating Points

2 posts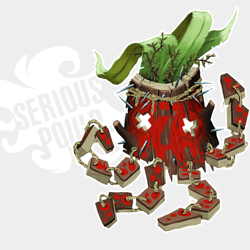 How are other folks playing the Devourers "you can't move" rule? Card 480 if you want to reference an actual card.
I think all will agree that you can't

with a Devourer on your space.
I think most will probably agree that you
can
resolve effects like dungeon entrances and Tribal Stool, that say to return the board and the past and then put a terrain card into play and each player places their figures on it. The Devourers cards say nothing about not being allowed to take

actions or not being allowed to return the board or not being allowed to place your figure or anything like that, AND you return the board before placing your figures (so the Devourer is already gone), AND these effect don't even use the word move. So to me, it seems pretty cut-and-dried to me that you can use e.g. Tribal Stool to escape -- but I can easily imagine someone interpreting the "spirit" of the rule to be that you can't leave a tile with a Devourer on it whatsoever.
Whether Devourers block bridge movement is fairly ambiguous and extremely important. Devourers usually spawn on adjacent terrain cards and can be routed around or unloaded by saving before you get 'stuck' on them. The main way for them to spawn right on top you and trap you immediately is if their fog tries to spawn them on an event instead of a terrain card, and almost all fogs that are replaced by events are replaced by bridges. So, the question of whether you can escape devourers by crossing bridges matters a lot -- if there's a devourer on your space and you didn't choose to move there to encounter it, 99% of the time there's a bridge option.
Bridges do use the word "move" to describe what you do with to your character figure, and they don't return the Devourer before they do it, so it's entirely possible they are blocked by Devourers. On the other hand, Move nearly always means

and I think the rulebook might even explicitly define it as such.
Forums/ The 7th Continent/ Rules and Operating Points

2 posts