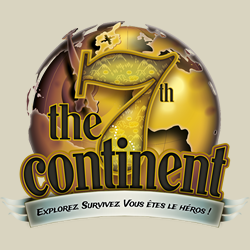 Nombre de message : 26
Créé :
Dernière visite :
Hey,

everyone already probably knows - "Serious Poulp" announced that they will be selling "Classic Edition of the 7th Continent" in retail. The biggest difference between those two are '113 extra cards for replayability, randomness and so on'... I'm kinda curious is there a way to distinguish which cards are Kickstarter exclusive and won't be included in retail version of the game?

Thanks in advance.
It is not allowed to deconstruct an item voluntarily, unless it is part of the effect of the Item card. For example, "Bolas" Skill card is discarded after use. However, if you have to/supposed to discard or banish a card from your inventory and it nowhere mentions "Using this item does not reduce durability value", should I lower the die value of the stack where "Bolas" Action card (or any other) was? This way there are other cards that can lower your combined inventory stuck by more than just one pip...

Also, if "Bolas" card was the top card of one of the inventory stacks, after discarding it, does the die automatically is put on the next Skill card in line or the whole stack is destroyed/discarded?
Trying to figure out...

I reached a terrain card (in a barge) and area 12 Exploration card is attached to it. The latter card has a compulsory action on the back. Do I perform it straight away or can I wait until barge moves off the Terrain card I'm on and reaches the place where another Terrain card should be?

When is the correct timing to do this compulsory exploration action?
Hey,

I'm curious whether playing solo you can use the rule of determining the cost of the action. Can you decide to lower the cost of the action by any number of Action cards and therefore increase the difficulty of the action by the same amount of successes? And if that action is a failure, do you take 100 Adventure card/ become paranoid?

I think this rule applies only playing with two or more players, but just double checking it here...

Thanks in advance.
You are absolutely correct, I have misread "Think". Sorry, guys. My bad.

Is it just me or combination of "Remember" and "Think" skill cards are quite overpowered? If you are lucky enough, you could do this for quite a long time without any need to hunt or fish. Any thoughts on these cards combo?! :?